Introducing the New Scharf Banks Marmor Website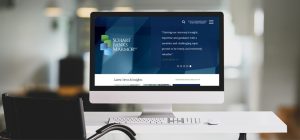 Leading Chicago boutique law firm, Scharf Banks Marmor LLC, is pleased to announce a complete redesign of its website, www.scharfbanks.com.
At Scharf Banks Marmor, we have always prided ourselves on a progressive, client-first approach to the law. For well over a decade, our clients have relied on us for advice and counsel on their most complex and mission-critical matters, and our public face needs to reflect the sophistication and national scope of our practice, the diversity of our team of lawyers, and our commitment to client centered advocacy.
The new site is designed to be easy to navigate, and each page can be downloaded as a well formatted PDF to make it easier for our clients to evaluate the firm and our lawyers, anywhere and at any time. As one of the most successful, nationally recognized woman-owned firms, we proudly recognize our sponsorship of leading diversity organizations such as NAMWOLF and WBENC on our homepage. In keeping with the spirit of our firm, we have chosen a palate of strong and confident colors representing our no-nonsense approach to your business needs, while also providing a calm presence even while addressing your most contentious matters.
We hope you visit our new site and learn why Chicago Lawyer called us "A blueprint for women-owned law firms."
Thank you, and we look forward to working with you again soon.
About Scharf Banks Marmor
Scharf Banks Marmor LLC is a sophisticated, women-owned law firm whose attorneys come from leading AmLaw 100 firms and Fortune 100 corporate law departments. Our lawyers concentrate their practices in: Complex Litigation and Appeals, Employment, Corporate, Life Sciences, Intellectual Property, Food, Insurance, and Antitrust.