Scharf Banks Marmor Promotes Susan H. Rider to Partner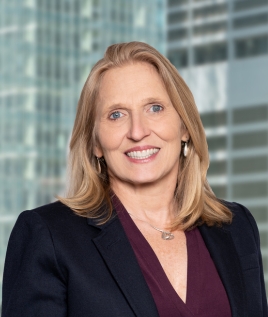 Scharf Banks Marmor LLC is delighted to announce that our colleague Susan H. Rider has been promoted to Partner.
Susan joined Scharf Banks Marmor in 2022 and was recognized by Bloomberg as one of the "10 High-Profile Gets in 2022".  Since joining the firm, Susan has distinguished herself in representing our clients in their most complex and high stakes labor and employment matters.  Recently Susan created a highly successful and sought after program to provide privileged analyses and compliant submissions for employers across the nation required to comply with the Illinois Equal Pay Act.
"In the relatively short time she has been with the Firm, Susan has become a valued partner to our Employment law practice group.  Her skill, judgment and depth of experience are a boon to the Firm and its clients."   Said Sarah Marmor one of the founders of Scharf Banks Marmor, "Susan has made a substantial and positive impact on our ability to both serve and anticipate our clients' needs and her can-do attitude coupled with her dedication the community and the Bar are a perfect match for our Firm."
Susan's distinguished career includes serving in various capacities of increasing responsibility in Exelon Corporation, the nation's largest utility company serving more than 10 million customers.  During her time at Exelon, Susan served in senior inhouse legal roles culminating in over ten years as Vice President and Deputy General Counsel, Employment & Benefits. In this role Susan was responsible for the Labor, Employment and Employee Benefits and Executive Compensation legal practice at Exelon and each of its six subsidiaries with a total of nearly 20,000 employees. While at Exelon, her accomplishments included:
Advising senior management and the board on litigation, dispute resolution and policy matters.
Advising senior management and the board on executive compensation and employee benefits issues.
Leading corporate-wide business initiatives, including the successful design, build and implementation of the company's first electronic data retention and electronic discovery programs.
In keeping with Scharf Banks Marmor's long-standing commitment to community service, Susan has served and continues to serve in leadership capacities in a number of significant not-for-profit and bar-related organizations, including:
Heartland Alliance- Board of Directors, 2012-Present
Family Rescue- Board Member, 1997-2011; and 2019-Present
Federal Bar Association- Board Member, Chair of Corporate Division, Chicago Chapter, 2014-2017
Lake Bluff ESD 65 School District- Board Member 2011-2019
Village Of Lake Bluff- Trustee, Village Board of Trustees, 2021-Present; and Commissioner, Planning Commission and Zoning Board of Appeals, 2019-2021
We proudly welcome Susan to our partnership.
About Scharf Banks Marmor
Scharf Banks Marmor LLC is a sophisticated, women-owned law firm whose attorneys come from leading AmLaw 100 firms and Fortune 100 corporate law departments. Our lawyers concentrate their practices in: Complex Litigation and Appeals, Employment, Corporate, Life Sciences, Intellectual Property, Food, Insurance, and Antitrust.